Singapūras. Labiausiai išsivysčiusi pasaulio valstybė, kurioje šiukštu negalima įsivežti kramtomosios gumos ar juo labiau jos kramtyti gatvėje. Griežta tvarka, švara ir pašnibždomis išsakoma keliautojų baimė susidurti su magiškai didelėmis kainomis. Ar visai tai tiesa? Smalsumas nugalėjo – Singapūro dangoraižiai patraukė ir pritraukė.  Dalinuosi savo įspūdžiais, patirtais kelionės metu. Taip pat šiek tiek apie Malaizijos sostinę Kualą Lumpurą, kurio pavadinimas vis dar skamba egzotiškai. Ir Džiulijos Roberts įkūnytos veikėjos iš filmo "Valgyk, melskis ir mylėk" pamiltą Balio salą Indonezijoje, kurioje aš įgyvendinau savo vaikystės svajonę ir paliečiau tikrą dramblį!
Singapūras – vienas brangiausių pasaulio miestų. Ar verta keliauti ir kaip "išgyventi" šį kelionės tarpsnį?
Singapūre brangiausias apgyvendinimas, maistas ir nuosavas transportas. Kadangi vietos jie neturi tiek daug, kiek norėtų, labai kyla žemės mokestis ir verčia kelti kainas apgyvendinimo įstaigoms. Nuosavą automobilį ten turėti taip pat be galo brangu, todėl už taksi gali tekti pakloti nemenką sumą. Nors nustebino tai, kad uber paslaugos ten nebrangios, palyginus su viskuo kitu, todėl važinėjome naudodamiesi šia aplikacija. Taip pat Singapūre puikiai išvystytas viešasis transportas, o jo kainos, kaip bebūtų keista, nesikandžioja.
Restoranai… Na, galima juose ir nesilankyti arba apsilankyti rečiau, nes sumokėti gali tekti nemažai. Maisto kokybė tikrai gera visur, todėl paieškojus tripadvisor aplikacijoje galima rasti pigesnių, bet tikrai ne prastesnių restoranų ir išbandyti tikrą Azijos virtuvę. Išgyventi galima, tačiau jeigu biudžetas labai ribotas, siūlau pasispausti arba nusiteikti, kad ši stotelė bus viena iš brangesnių kelionės metu. Nors man Singapūras labai patiko. Noriu ten grįžti vėl ir vėl. Negaliu patikėti, kaip žmonės, neturintys jokių gamtos išteklių ir žemės ūkio, sugebėjo savo protu susikurti moderniausią pasaulyje valstybę ir taip sėkmingai ją vystyti toliau. Inovacijos, modernumas, tvarka, švara ir technologijos – jų niekada nebus per daug.
Koks jausmas vaikštinėti Singapūro gatvėmis?
Dangoraižiai ir miesto panorama tikrai įspūdingi. Man priminė vaizdus iš įvairių filmų apie ateitį. Žmonės ten jau gyvena ateityje ir tai yra neįtikėtina. Visada vaikščiojau užvertusi galvą aukštyn, nes tokių didžiulių pastatų dar nebuvau mačiusi. Mūsų viešbučio kambarys buvo 38-ame aukšte ir išėjus į balkoną jau apsvaigdavo galva, nors virš mūsų buvo dar beveik 20 aukštų. Pasilenkdama pažvelgti žemyn dėl visa ko prilaikydavau akinius ant nosies.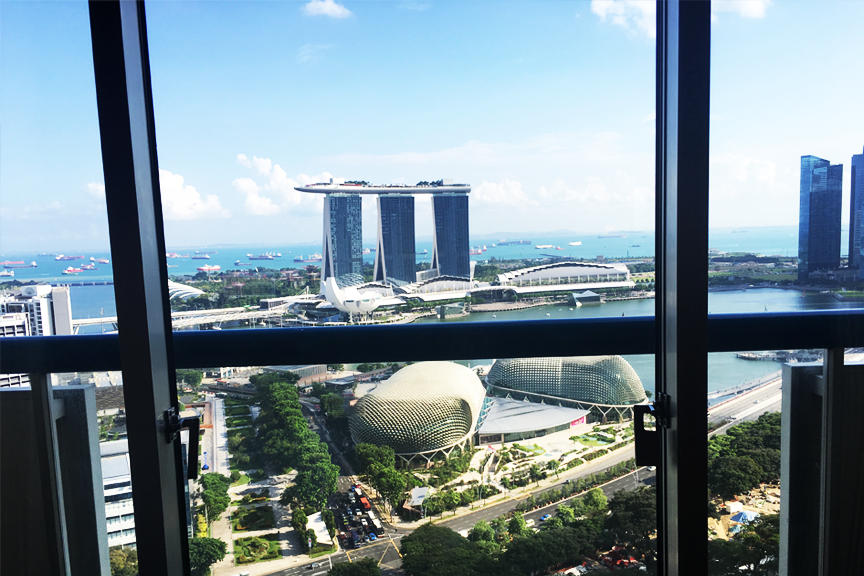 Saugu, modernu ir švaru ten yra ne veltui. Nors mums kaip turistams nekilo klausimų, kaip elgtis, ką daryti, kaip neužsidirbti baudos. Elgėmės laisvai, normaliai, gerbdami tvarką ir neturėjome jokių problemų. Girdėjau, kad nusikalstamumas čia tikrai nedidelis, bet mačiau nemažai plakatų, raginančių pasisaugoti kišenvagių, – panašu, kad šios problemos Singapūro gyventojams visgi nesvetimos. Prieš kelionę perskaičiau, kad į šalį draudžiama įsivežti kramtomąją gumą, tuo labiau kramtyti ją gatvėje. Nuvykusi atkreipiau dėmesį į šaligatvius – jie tikrai labai švarūs! Vėliau kitose šalyse akis badė ant žemės pridžiuvusios gumos lopinėliai. Taip pat čia galioja mirties bausmė už narkotikų platinimą, o kontrabandininkus užsieniečius nuteisia taip greitai, kad jų šalių ambasados net nespėja paduoti skundų ir sustabdyti proceso.
Kvala Lumpūras – šventyklos, orchidėjų, rožių parkai ir paukščių parkai pačiame Malaizijos centre…  Ar nenustelbė jo įspūdžiai po Singapūro?
Į Kuala Lumpurą atvykome iš Filipinų ir buvome labai trumpai. Atvykę vakare sėdome į uber ir nuvykome į tradicinį restoraną. Labai norėčiau papasakoti, ką ten valgėme, bet nesupratau nei užsisakinėdama, nei valgydama… Daug jūros gėrybių ir viskas labai aštru. Kitą dieną užsidėjome kuprines ir ėjome apžiūrėti pagrindinių vietų – bokštų dvynių, aikščių ir fontanų. Viskas labai žalia, žydi, kvepia. Nors Singapūrui neprilygsta nė iš tolo: čia teko matyti skersgatvių, kur žmonės tiesiog pro langus pila šiukšles, nevalytų gatvių ir nepatrauklių vietų. Gražu ir išpuoselėta tik miesto centre, kur įsikūrę pagrindiniai verslo centrai, prekybos centrai, parodų rūmai ir plūsta daugiausiai turistų.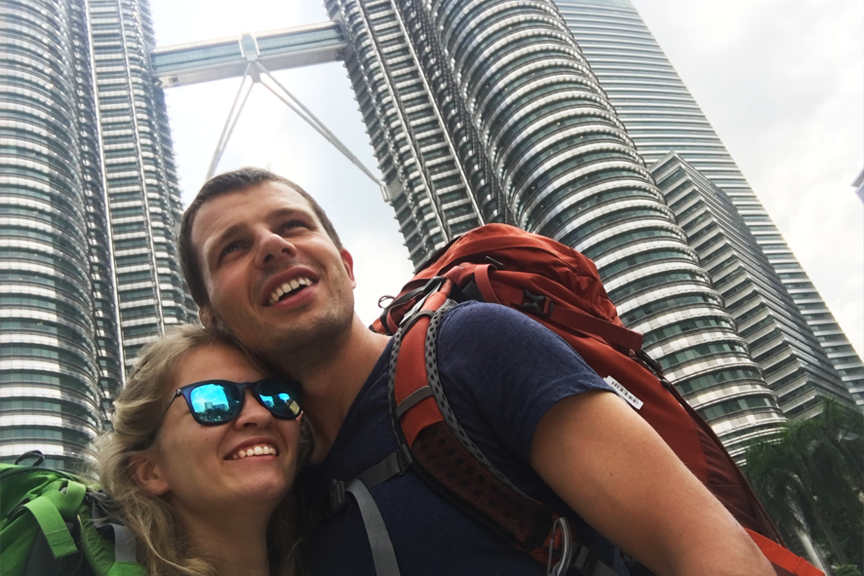 Po tokių didmiesčių, Balio ryžių terasos, iliustruojančios žmogaus ir gamtos vienybę, turėjo sutelkti savotiškai kontempliacijai. Juk būtent Balyje valgė, meldėsi ir mylėjo visiems pažįstama Julia Roberts viename savo filmų…
Taip sutapo, kad Balyje gyvenome viloje, tiesiogine to žodžio prasme ryžių laukuose. Nebuvo nei gatvės, nei adreso. Eini ryžių terasomis siauru takeliu ant skardžio ir prieini mūsų gyvenvietę. Įdomu buvo stebėti dirbančius žmones, ryžių augimo procesą, infrastruktūrą. Balyje stengėmės išnaudoti didžiausius jo privalumus: azijietiškus masažus, šviežių vaisių kokteilius ir įvairius ryžius. Nesu linkusi lankyti daug šventyklų ar kitokių turistinių vietų, todėl mieliau mėgavausi spa malonumais, kurie ten tikrai neįtikėtinai pigūs ir kokybiški (pvz. valandos masažas kainuoja apie 10 eurų). Taip pat galima rasti senų apleistų vietų, pasivaikščioti parkuose, kur gausu apsamanojusių statulų ir fontanų. Gamtoje dominuoja tamsiai žalia ir samanų spalvos, viskas visada žalia, todėl veikia raminančiai.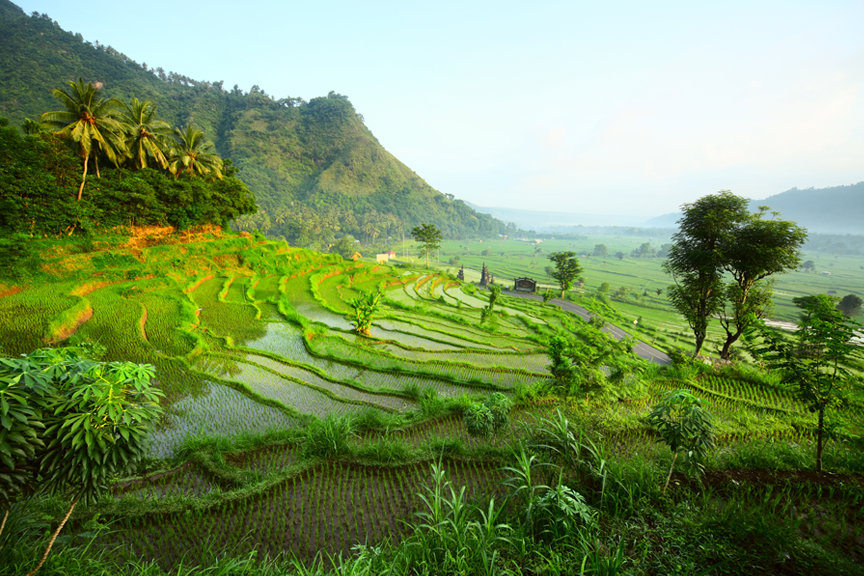 Balis – ypatingai liberali vieta. Čia beveik nėra kelio ženklų visi važiuoja kaip nori, nors greitis retai bus didesnis nei 40 km/h dėl daugybės eismo dalyvių, siaurų gatvių ir kalvų. Čia toleruojami visi tikėjimai, visos tautybės, visi žmonės. Vietiniai žavi savų tradicijų išlaikymu netgi didžiausiu turistų antplūdžio metu. Jeigu pas juos yra tradicija pašventinti kokius nors namus ar skulptūrą, jie ateina ir tai daro, nekreipdami dėmesio į smalsius turistų žvilgsnius.
Harmoniją su gamta gadino šiukšlės. Jų čia tikrai daug ir grožio tikrai neprideda. Pilna valkataujančių šunų, ant žemės daugybė popierių, butelių, pakuočių, pūvančių vaisių, kavinėse švaros taip pat dažnai trūksta, todėl kartais tenka paieškoti, kur pavalgyti pakankamai higieniškomis sąlygomis. Galbūt todėl turbūt kas trečią keliautoją aplanko vadinamoji "Bali belly" infekcija – tenka porą dienų pagulėti lovoje ir valgyti tik virtus ryžius bei duonos skrebučius. Galima įžvelgti ir pliusų – puiki proga išvalyti organizmą.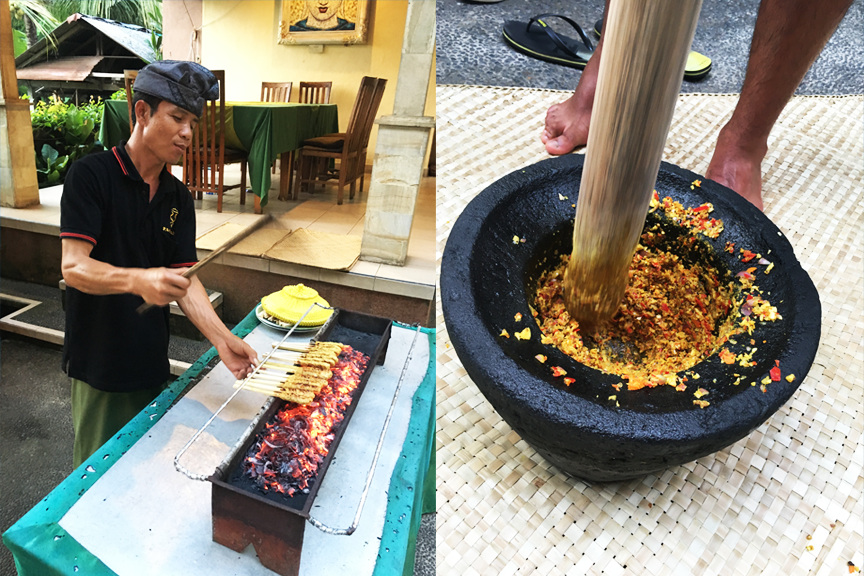 Kas dar nepaminėta? Kainos, turistų srautas? Transportas? Vietos kultūra ir pramogos ir kultūriniai šokai?
Balyje turistų daugybė. Nesuprantu, kodėl sakoma, kad čia galima rasti ramybę ir harmoniją, jeigu miestai šurmuliuote šurmuliuoja nuo žmonių, motorolerių, automobilių, šunų… Norėčiau sugrįžti ten tikrai ne dėl gamtos, o dėl suvažiuojančios auditorijos. Čia susirenka tikrai įdomūs žmonės, galintys papasakoti įdomių istorijų, pasidalinti patirtimi. Daugelis atvykusių tiesiog toliau dirba savo darbus: programuotojai, dizaineriai, tekstų kūrėjai, marketingo ir kitų sričių specialistai puikiai suderina darbą su poilsiu ir džiaugiasi galėdami peržiemoti svetur. Miesteliuose yra viešų biurų, kuriuose įsigijus narystę patogu tęsti darbus su kartu atvykusiais kolegomis arba tiesiog patogiai įsitaisyti prie stalo ir rašyti naujus tinklaraščio straipsnius. Džiugu, kad tokios vietos dabar populiarėja ir Vilniuje. Pasaulis žengia tolyn ir anksčiau įprastas darbas nuo 8 iki 17 valandos keičiasi į darbą visą parą kokioje tik nori vietoje.
Balyje nerasi tokių asmenų, kuriems atostogos reiškia savaitę su alaus bokalu rankoje ir dar prieš tai susipiltais penkiais skrandyje. Čia nėra klubų kultūros, naktinio gyvenimo, vandalizmo, viską siaubiančių girtų turistų. Taip pat nėra viešbučių, kur "viskas įskaičiuota" reiškia daug neriboto alkoholio. Tokie turistai salos dar neatrado ir viliuosi greitai neatras. O vietiniai alkoholio beveik negeria, nes jis čia gana brangus, o pragyvenimo lygis pakankamai žemas.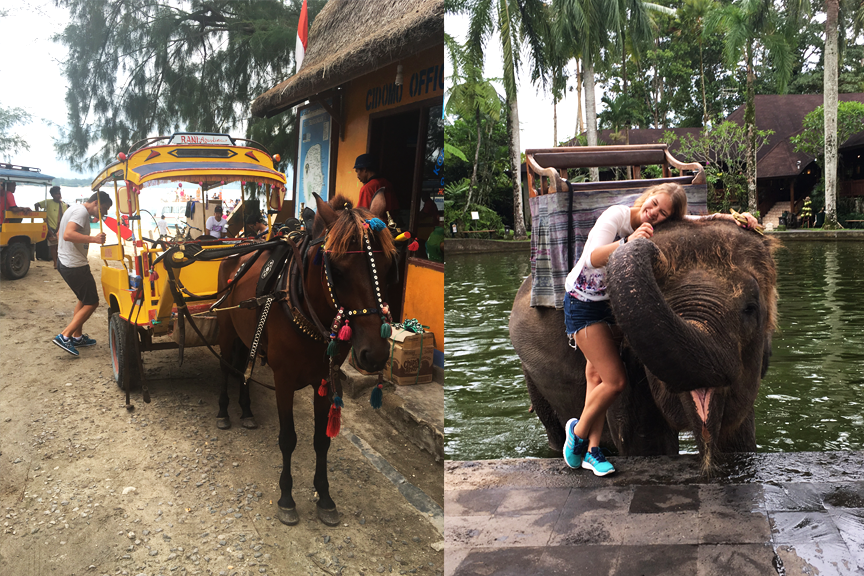 Kainos panašios kaip ir pas mus, manau anksčiau viskas buvo pigiau. Dabar didžiuliai turistų srautai išlepino gatvės pardavėjus, kurie užsiplėšia neadekvačias kainas. Tačiau apgyvendinimas, maistas ir transporto nuoma ten pigesnė nei Europoje. Neperkant per daug daiktų, tikrai galima pailsėti pigiai ir kokybiškai.
Transportas dažniausiai motoroleriai arba automobiliai. Išsinuomoti motorolerį labai pigu (mėnesiui kainuoja apie 80-100 eurų), išmokti važiuoti taip pat paprasta, nes greitis nėra didelis, eisme dalyvauja daugybė pirmą dieną ant motorolerio atsisėdusių turistų, todėl labiau patyrę vairuotojai stengiasi jų išvengti, o naujokai – pernelyg nesimaišyti. Vyrauja tarpusavio supratimas ir eismo įvykių skaičius tikrai nėra didelis. Įdomiausia buvo nuvykus į Gili salas, ten nėra jokių motorinių transporto priemonių. Taksi atstoja arklių tempiami vežimai, o kitas galimas transportas yra dviračiai, kuriuos taip pat galima nebrangiai išsinuomoti. Tikras salos gyvenimas, labai tylu.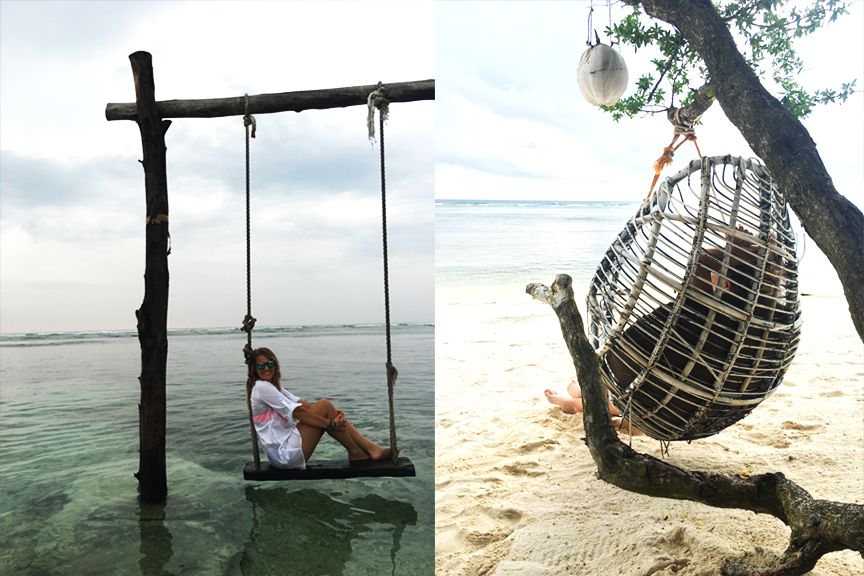 Aktyvių pramogų Balyje nėra tiek daug, čia vyrauja ramybė, kultūringas atsipalaidavimas ir meditacija. Nors miesteliuose prie vandenyno daugybė banglenčių klubų, todėl čia suvažiuoja šio sporto entuziastai iš Australijos ir Amerikos. Aš lankiausi sidabro apdirbimo pamokose, kur pasigaminau sidabrinį kaklo papuošalą drambliuką, taip pat maisto gamybos kursuose, kur gaminome šešis tradicinius patiekalus, naudodami senovinę trintuvę, vietinius maisto produktus ir prieskonius, o juos vedė charizmatiška Balio gyventoja. Taip pat galima lankyti tapymo ant šilko (batikos) kursus, jogos pamokas, kovos menų užsiėmimus, keramikos kursus ir panašiai. Puiki galimybė išbandyti naujas veiklas.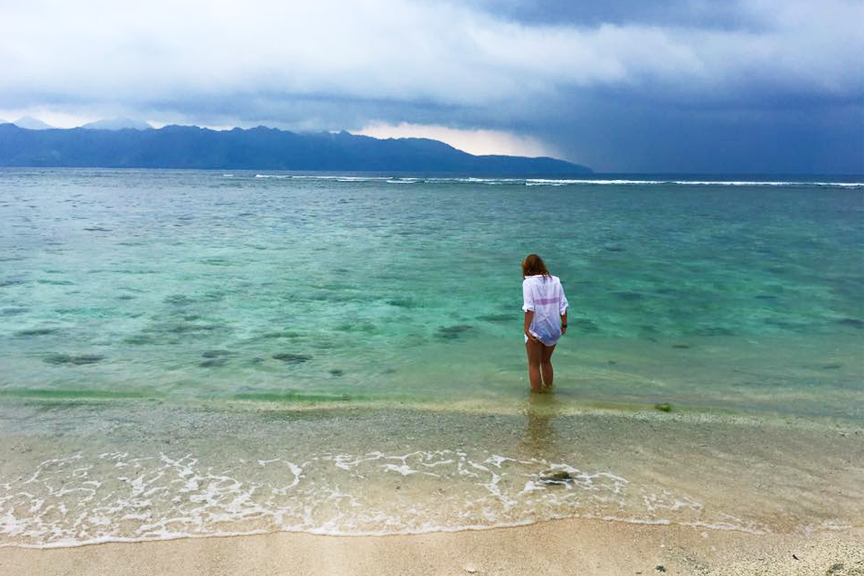 Už iniciatyvą ir taiklius klausimus dėkoju skrendu.lt kolektyvui. Originalus tekstas ir jų blog'as su dar daugiau įdomių ne tik mano istorijų yra čia: http://blog.skrendu.lt/. Ši komanda tikrai žino, ką daro!