Iraną vadinu didžiausiu melu savo gyvenime, tai paaiškinu ankstesniame blog'o įraše apie stereotipus. Tačiau tai taip pat buvo neįkainojama patirtis ir įdomus kultūrinis šokas. Ši šalis sužavėjo, sujaudino, išmušė iš vėžių, supurtė ir išlydėjo su pažadu sugrįžti. Už klausimus dėkoju skrendu.lt komandai.
1. Krūvos stereotipų, susijusių su moterų teisėmis, neapykanta Vakarams, terorizmu ir kitais naujienų portalus marginančiais aspektais… Kaip jums pavyko su tuo susidoroti? Paneigti? Patvirtinti?
Visiems kartoju, kad Iranas buvo didžiausias melas mano gyvenime. Skaičiau daugybę įrašų apie šią šalį, stereotipus, patarimus, kaip elgtis, važiavau išsigandusi ir niekuo nepasitikinti, tačiau nuvykus ten tarsi su kuolu kas per galvą trenkė – visiškai normali šalis! Netgi svetingiausia iš mano aplankytų. Savo tinklaraštyje aprašiau net 31 faktą, kur realybė visiškai nesutapo su mitais aprašytais internete, taigi paneigiau visus stereotipus. Moterys ten gyvena kaip ir mes, tik rengiasi uždariau ir turi dėvėti skaras, apie terorizmą niekas nekalba ir su juo nesusiduria, o vietiniai sako, kad teroristų iš Irano nebuvo jau daugiau nei 20 metų, Vakarams neapykantos taip pat nesijaučia, priešingai – merginos svajoja apie vyrus iš Vakarų, problema tik ta, kad jos negali už jų ištekėti, bet argi tai kliūtis svajonėms?
Manau pagrindinė problema, kodėl mūsų visuomenė bijo Irano ir susidaro klaidingą įspūdį yra ta, kad mes neskiriame Irano, Irako, Jungtinių Arabų Emyratų, Afganistano. Jeigu spaudoje pasirodo pranešimai apie egzekucijas, teroristus ar kitus neramumus vienoje iš šių šalių, mes esame linkę manyti, kad taip yra visur aplink arba tas pačias naujienas priskiriame ne toms valstybėms. Tikiu, kad metams bėgant padidės turistų srautai į šią šalį ir žmonės prisijaukins Iraną ne mažiau nei kitas pamėgtas vietoves.
2. Kokie vaizdiniai aplanko prisiminus Iraną? Dykumų plynės? Kalnai horizonte? Ar matyti žalumos peizažuose? Gamtos mylėtojai nekantrauja…
Aš aplankiau tris miestus: sostinę Teheraną, Isfahaną (Isfahan) ir Kašaną (Kashan). Teheranas – pats vakarietiškiausias miestas, su didžiuliais dangoraižiais, prekybos centrais ir kitais dideliam miestui būdingiems atributams. Taip pat čia yra kalnai, kuriuose galima slidinėti net vasarą. Aukščiausias kalnas Teherane yra beveik 4 km aukščio. Pats miestas išsidėstęs slėnyje tarp kalnų, todėl ten didžiulis smogas, dangus atrodo pilkas, tolumoje nesimato pastatų. Spėju, kad taip yra todėl, kad kalnai sulaiko vėją ir debesis, todėl ten trūksta oro cirkuliacijos. Kituose miestuose vaizdas šiek tiek kitoks – Kashan yra labai senas miestas, kur išlikę senoviniai pastatai ir grindinys. Aplink kalnai ir sausos dykumos. Isfahan – labai jaukus miestas, turintis didžiulę upę. Tiesa, vietiniai džiaugėsi, kad pavyko mums parodyti upę su vandeniu, nes šiltuoju sezono metu ten vandens visai nebūna. Tos upės pavadinimas yra Zayandenhrood, kas lietuvių kalba reiškia "gyvybę duodanti upė". Anksčiau ši upė aprūpindavo centrinio Irano apylinkes, dabar vietiniai pergyvena, kad vandeniu ji užsipildo vis rečiau. Tikrai labai įdomus reiškinys, verta pasidomėti plačiau. Labai džiaugiuosi, kad man pavyko pamatyti tą upės vandenį. Iranas yra labai didžiulis, todėl ten galima rasti ir miškų, ir dykumų, ir jūrą, baltą smėlį, netgi kurortines salas. Šį kartą keliavau po pakankamai nykią gamtos dalį, todėl labai norėčiau aplankyti ir šiltesnę dalį, arčiau Kaspijos jūros.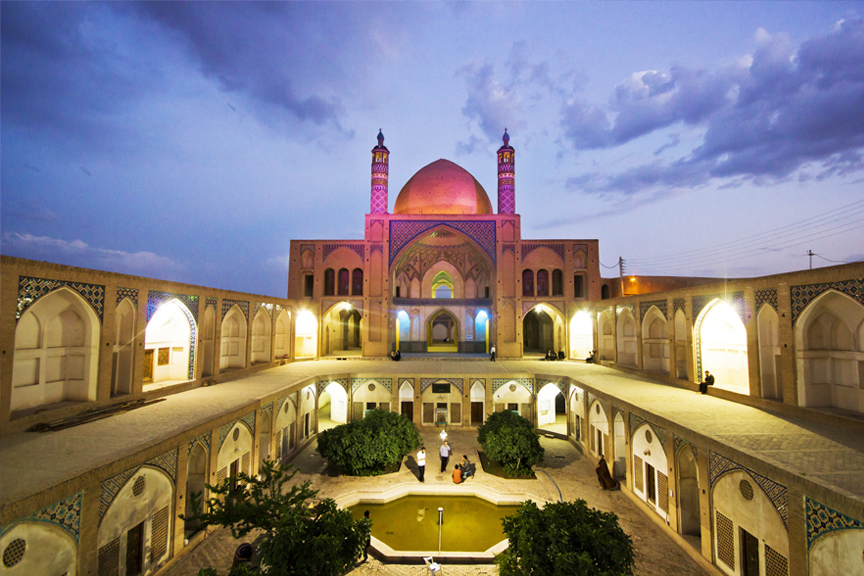 Kašanas, Skrendu.lt nuotrauka
3. Ar teko prisiimti turisto vaidmenį? Paganėte akis į mečečių kupolus? Ar pasisukinėjote po bazarą – rytietišką turgų?
Visos viešnagės metu mus lydėjo vietiniai. Nors elgėmės kaip jie ir stengėmės per daug nekristi į akis, išvaizda tiesiog akivaizdžiai bylojo, kad mes atvykėliai. Šviesūs plaukai ir žydros akys ko gero niekada neleistų ten pasijusti vietine, net pragyvenus daugybę metų. Todėl teko tiesiog atsipalaiduoti ir nekreipti dėmesio į smalsius žvilgsnius bei kantriai fotografuotis su visomis iranietėmis, kurioms nuotrauka su tokia atvykėle dažnai yra svarbesnė už bet kokį lankomą objektą. Viešnagės metu stengėmės aplankyti kuo daugiau objektų, nes šios šalies istorija tikrai labai įdomi. Aš maniau, kad krikščionybė ten atrodo didžiausias priešas, bet mes nuėjome į krikščionišką bažnyčią ir šalia jos esantį muziejų. Viskas labai normalu ir skirtingos religijos ten sugyvena tikrai draugiškai. Prabangą jie ten supranta kitaip – visur daugybė mozaikų, marmuro, aukso, rankų darbo kilimai, įspūdingi šviestuvai, sodai, gėlynai. Išbaigtumas ir detalės tikrai pritrenkia. Visgi tai buvusi galingoji ir turtingoji Persija.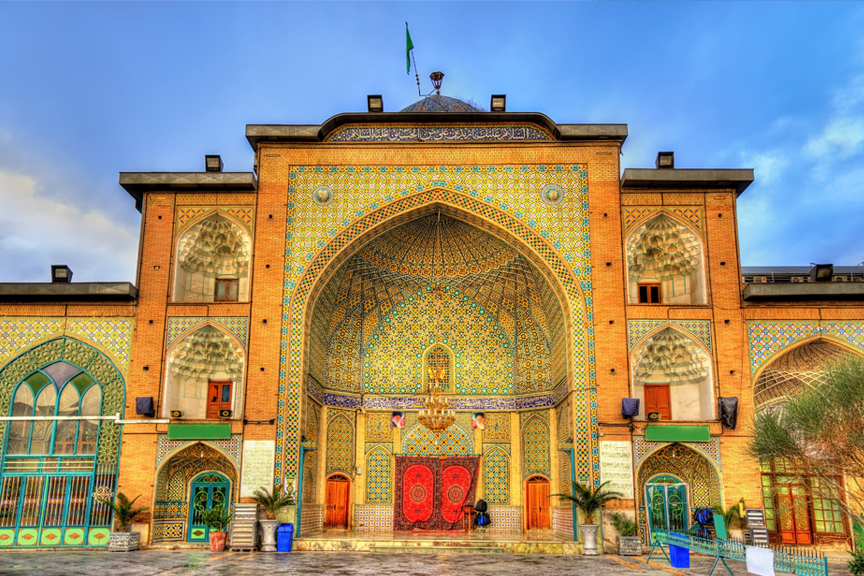 Teheranas, Skrendu.lt nuotrauka
O su turistais vietiniai elgiasi ypač draugiškai. Visada pasisiūlo padėti, nesistengia apgauti, turisto problema – vietinio problema ir jis iš visų jėgų stengiasi ją išspręsti. Man labai patiko tai, kad parduotuvėse ir turgeliuose niekas nelenda į akis ir įkyriai nesiūlo savo prekių kaip Turkijoje, Egipte ir kitose populiariose atostogų vietose. Turgūs Irane didžiuliai ir labai įdomūs, nes ten gausu rankų darbo kilimų, kuprinių, batų, vazų ir kitokių prekių. Gaila, kad vis daugiau į juos įsisuka kiniškos prekės ir gadina visą autentiką. Turistų srautai prekeivių dar nesugadino, todėl kainos ten tikrai pasirodė nedidelės. Iš pradžių mokėjome tiek, kiek prašydavo, tik tada supratome, kad jie labai mėgsta derėtis. Juokingiausia buvo, kad mes nesiderėdavome, neprašydavome sumažinti kainos ir paduodavome lygiai tiek, kiek prašydavo prekeivis, o jis pats neimdavo visų pinigų, paimdavo tik dalį ir sakydavo, kad padaro nuolaidą. Toks žmonių nuoširdumas tikrai sužavėjo.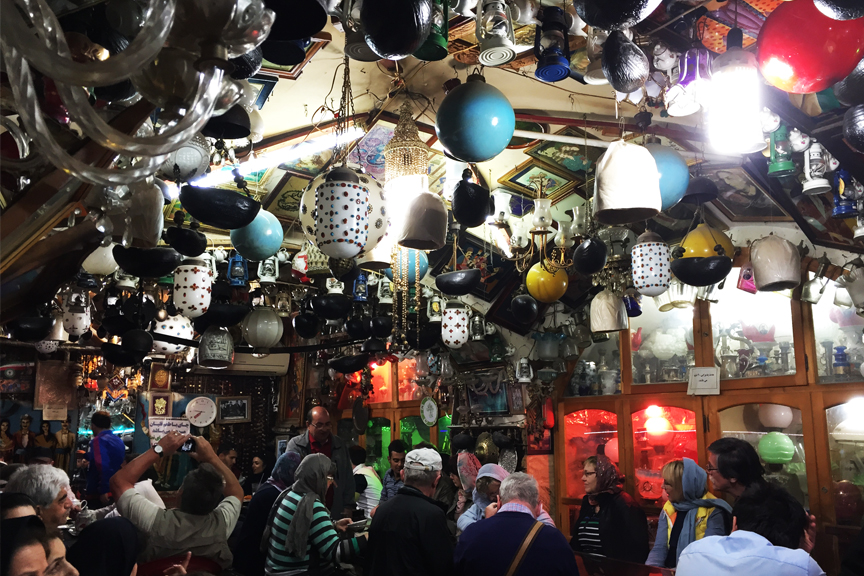 4. Ar teko pabendrauti su vietiniais? Kokie jie? Kuo verčiasi? Negi visi naftos kompanijose dirba? Kokia gi ta musulmoniška kasdienybė?
Su vietiniais bendravome tikrai daug, susipažinau su penkiomis šauniomis merginomis ir dar daugiau vaikinų. Labai džiaugiuosi, kad vieną dieną praleidau dviese su vietine mergina, kurios išsiklausinėjau visko apie moterų padėtį šalyje, moterų požiūrį į dėvimas skaras, draudimus poroms, veiklas, santykius, vakarėlius ir kitus įdomius dalykus. Nuliūdino tai, kad jie labai daug rūko, netgi merginos. Kadangi turi nemažai suvaržymų, taip jos išreiškia savo laisvę. Nors alkoholis oficialiai uždraustas, jį taip pat vietiniai vartoja dažnai ir dideliais kiekiais. Sužinojau įdomybių, kad merginos svajoja apie europietiškas mažas nosytes, nes tradicinė iranietės nosis yra didelė ir kumpa. Todėl tik sulaukusios pilnametystės jos skuba pas plastikos chirurgus, kurių paslaugos ten labai pigios, susimažina nosį, pasididina lūpas, pasikoreguoja žandus ir pasidailina kitas kūno vietas. Mes prekybos centre netgi žaidėme žaidimą, kai ji man parodydavo merginą, o aš turėdavau pasakyti, ar tikra, ar dirbtinė jos nosis. Buvo labai smagu, bet tuo pačiu ir šokiravo, kiek daug merginų atsisako natūralumo.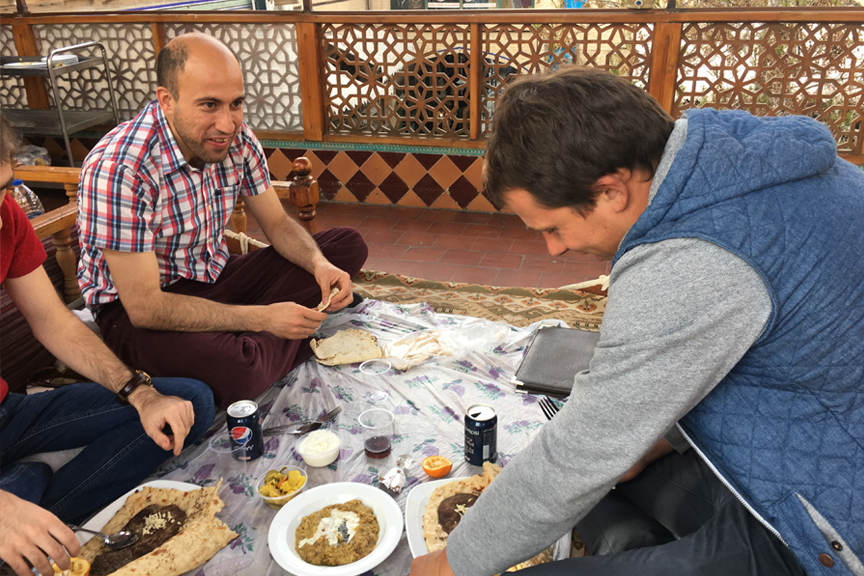 Vietiniai dirba tą patį, kaip ir mes. Ten labai daug programuotojų, dauguma jų dirba tarptautinėms kompanijoms, kai kurie turi vietinius verslus ir aplikacijas. Merginos ir vaikinai dirba administratoriais, klientų aptarnavimo specialistais, parduotuvėse, viešbučiuose, tarptautinėse transporto ir kitokiose kompanijose. Darbai lygiai tokie patys kaip pas mus, o šalies išsivystymo lygis sparčiai auga. Laisvalaikiu jie mėgsta susitikti su draugais, slidinėti, apsipirkinėti, vaikščioti parkuose, eiti į kiną, iškylauti. Naktinių klubų ten nėra, baruose alkoholis taip pat neparduodamas, todėl jie geriausius klubus ir vakarėlius pasidaro tiesiog pas save namie. Iraniečiai sėkmingai naudojasi Facebook, Instagram programėlėmis, nors jos oficialiai uždraustos ir blokuojamos, tačiau yra būdų, kaip tai apeiti, todėl problemos nėra. Iš pradžių maniau, kad dėvėti skaras ir ilgus drabužius merginos privalo visada. Pasirodo, kad klydau. Jeigu darbe jos neturi tiesioginio kontakto su klientais, visos sėdi laisvai apsirengusios, be skarų. Namie taip pat dėvi įvairias trumpas sukneles, šortus. Ilgi drabužiai ir skaros iš esmės yra reikalingi tik ten, kur yra galimybė susidurti su policija.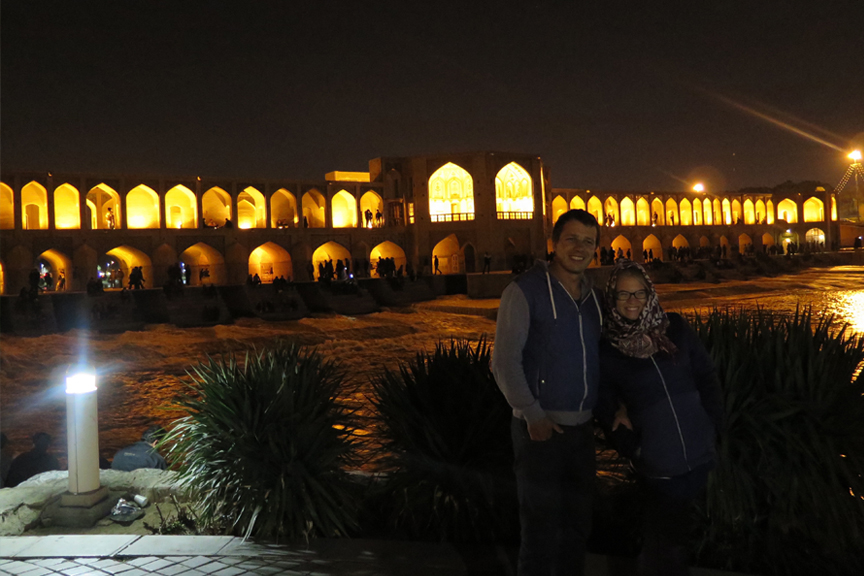 Vietiniai yra ypatingai svetingi. Jeigu pasakai, kad tau kas nors patinka, tai gausi tai iškart, net neprašydamas. Jie dalijasi viskuo – maistu, telefonais, pinigais, daiktais. Jeigu sunkiau kalba angliškai, tuomet būtinai pakviečia draugo žmonos seserį, kuri universitete studijavo anglų kalbą, kad ji palaikytų kompaniją ir pakalbintų atvykėlius angliškai. Mus šiek tiek trikdė toks svetingumas, nes niekur kitur nieko panašaus nepatyrėme. Įsivaizduoju, kad situacija panaši kaip Lietuvoje prieš kokius 20 metų, kai į mažą miestelį atvyksta svečias iš Amerikos ir visi būna suinteresuoti surasti žmogų, kuris su juo pakalbėtų, pasiūlytų skaniausią maistą, minkščiausią lovą. Tokie atvykėliai mums anksčiau atrodydavo it stebuklas, taip dabar patys atrodome iraniečiams.
5. Ką žinoti: apranga, maistas ir valgymo įpročiai, ką pamatyti ir aplankyti, o ką lauktuvių parvežti?
Merginoms – skaros, dengiančios galvas. Nereikia slėpti plaukų ir susiveržti skarų kaip močiutėms, svarbiausia, kad skara būtų užmesta ant viršugalvio. Labai patogu ją prisegti mažais segtukais, tada bus ramu ir patogu. Kelnės ilgos tiek vyrams, tiek moterims. Vyrai gali dėvėti marškinėlius trumpomis rankovėmis, merginų rankos turi būti uždengtos iki plaštakų. Taip pat reikėtų vengti gilių iškirpčių, o palaidinės ar švarkeliai turėtų dengti klubus. Merginos čia paprastai vilki mums įprastus drabužius – siaurus džinsus ir dabar itin populiarius ilgus marškinius. Taip bus ir patogu, ir niekas nepasakys pastabų dėl netinkamų drabužių.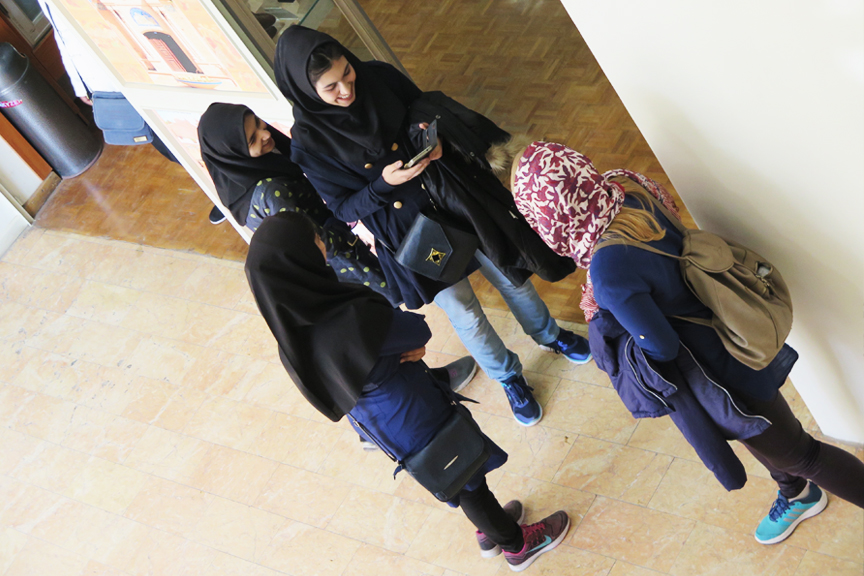 Rytų maistas yra mano mėgstamiausias. Mėgavausi kiekvienu kąsneliu, todėl rekomenduoju paragauti visko, ypač vietinių patiekalų. Jie valgo labai daug vištienos ir avienos, nes kiaulieną valgyti draudžia religija. Daugybė daržovių, vaisių. Tikrai labai skanu.
Jeigu yra galimybė, raginu aplankyti ne tik sostinę Teheraną, bet ir kitus miestus, kuriuos jau minėjau prieš tai – Kashan ir Isfahan. Neatsiejama miestų kultūros dalis – turgūs, tad nepraleiskite progos išvysti ir pajusti pardavimo subtilybes! Mane ypač sužavėjo Isfahan miestas su ta išdžiūvančia upe. Jis turi didžiulį ir įspūdingą tiltą, kuris jau tapo miesto simboliu. Taip pat šalia to tilto ant skirtingų krantų yra labai įdomios skulptūros. Jos vaizduoja liūtus, kurie žiūri vienas į kitą, o jų akys šviečia tamsoje. Jeigu stovi prie liūto viename krante, matai šviečiančias akis antrojo liūto kitame krante. Iš pradžių galvojome, kad akyse matosi gatvės šviestuvų atspindys, bet vietinis vaikinas patikino, kad ne. Skulptūros išlikusios dar nuo 17 amžiaus, todėl tos šviesos tikra paslaptis. Jeigu kas nors nukeliausite ir išsiaiškinsite, kaip jos šviečia, būtinai praneškite. Labai įdomu!
Iranas – pistacijų karalystė. Mes parsivežėme daug įvairių skonių pistacijų ir valgėme jas dar gerą mėnesį po kelionės. Lauktuvių rekomenduoju parvežti rankų darbo papuošalų, skarų, cukraus su šafranu, saldumynų su riešutais, staltiesių. Verta apsilankyti turguje ir ten tikrai kiekvienas atras įdomių dalykų, vertų parvežti draugams ir artimiesiems. Nors jeigu reikėtų išsirinkti vieną vienintelį dalyką, vienareikšmiškai rekomenduočiau pistacijas. Jos ten daug pigesnės nei Europoje, yra daugybė skirtingų rūšių ir skonių. Persivalgyti jų tikrai verta.
Dar kartą dėkoju skrendu.lt komandai už iniciatyvą. Daugiau įvairių kelionių įspūdžių rasite jų blog'e čia: http://blog.skrendu.lt/, kurį su pasimėgavimu skaitau ir pati!