Kelionės įspūdžiais pasidalinti paprašė šaunioji skrendu.lt komanda. Jų dėka galėjau viską prisiminti iš naujo ir pasidalinti bendrais įspūdžiais su jumis. Štai visas interviu apie kelionę.
Jūsų kelionė – ne šiaip sau tipinė poros savaičių atostogų išvyka. Du mėnesiai ir išties įspūdingas, bei intriguojantis maršrutas! Papasakok, kaip jis gimė? Ar ilgai tam prireikė planavimo ir kiek gikiaulių taupyklių teko pripildyti, kad galėtumėte tai sau leisti?
Viskas prasidėjo nuo darbo reikalų – mano draugas kartu su kolegomis turėjo dviems savaitėms išvykti į Balį. Galimybė prie jų prisijungti atsirado ir man. Pradėję planuoti kelionę, pamanėme, jog įveikus tokį atstumą apsiriboti vienintele sala nereikėtų – juk aplink daugybė įdomių vietų! Taip ir nusprendėme, kad pakeliausime aplink ilgiau. Visgi, kelionės neplanavome visiškai. Tuo metu tiksliai net nežinojome, kokias šalis aplankysime ir kada grįšime. Išvykdami turėjome po du bilietus: vieną – skrydžiui į Balį, kitą… į regio muzikos festivalį Naujoje Zelandijoje.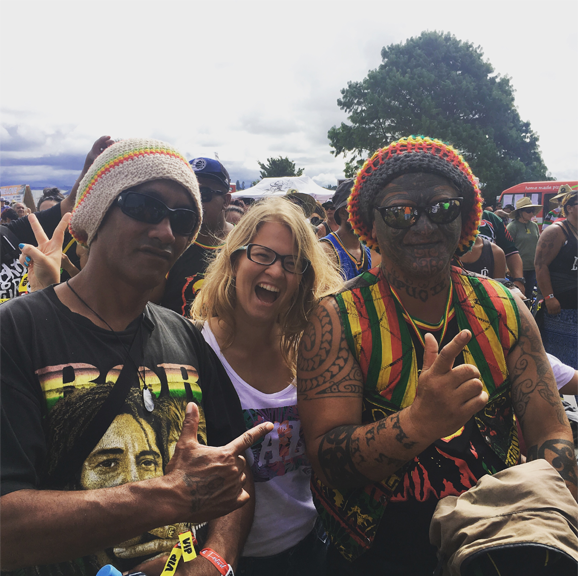 Monika Kazlauskaitė regio muzikos festivalyje, Naujojoje Zelandijoje
Dabar jau aišku, jog aplankyti buvo lemta Pietryčių Aziją, Naująją Zelandiją ir Artimuosius Rytus… Kodėl nusprendėte peršokti, rodos, visai pakeliui buvusią, kone nuo Zelandijos krantų matomą, Australiją? Ir ar neknietėjo pratęsti kelionės visai priešingoje planetos pusėje – Amerikoje?
Tiesą sakant, turėjome mintį apie Australiją, tačiau pradėjus dėlioti svajonių maršrutą, supratome, kad jai būtume galėję skirti vos porą savaičių. Didžiulė šalis! Labai trumpas laikas. Be to, norint gauti leidimą įvažiuoti į Australiją, reikia pildyti specialią elektroninę formą ir joje nurodyti viešnagės laikotarpį. Labai nemėgstame formalumų, o dar mintis apie tai, jo reikės prisirišti prie datų… Tai tapo viena priežasčių, kodėl Australija mūsų nesulaukė. Nusprendėm, jog verčiau skersai išilgai apkeliausime Naująją Zelandiją, skirsime jai daugiau laiko, o Australija sulauks dar kitų kartų.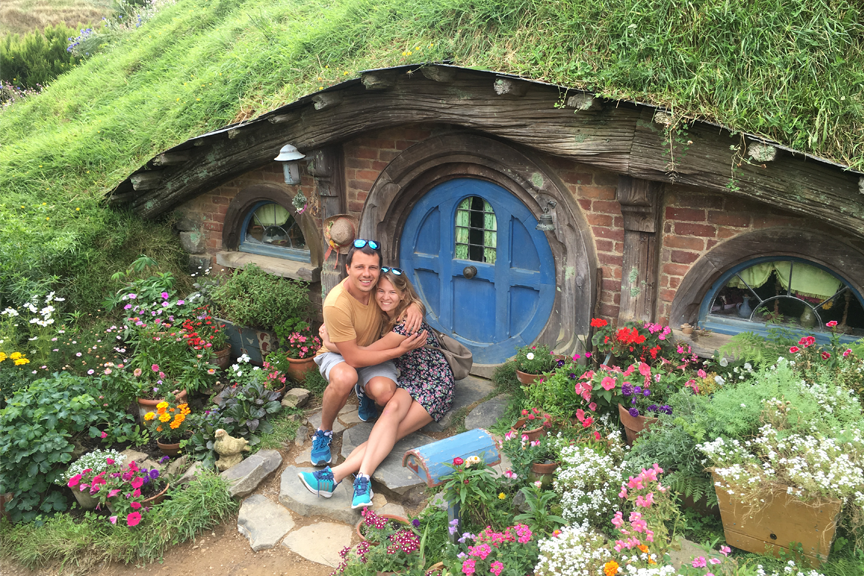 Kadras iš Hobbiton kaimelio, Naujojoje Zelandijoje
O Amerika? Kodėl ne Amerika? Pasaulyje yra daugybė įdomių vietų, todėl šį kartą pasirinkome priešingą jo pusę. Tiesa, dar būdami Kuko salose žvalgėmės įmanomų grįžimo kelių į Lietuvą. Ir skrydis pro Ameriką, iš tiesų, buvo jei ne tūkstančiu kilometrų, tai bent vienu skrydžiu arčiau gimtųjų namų (iš Kuko salų į vieną pusę skristi prireikia 5 skrydžių, į kitą – 6)! Visgi, vizos į Iraną jau buvo mūsų kišenėse – pasirinkome kelią, vedusį pro Aziją.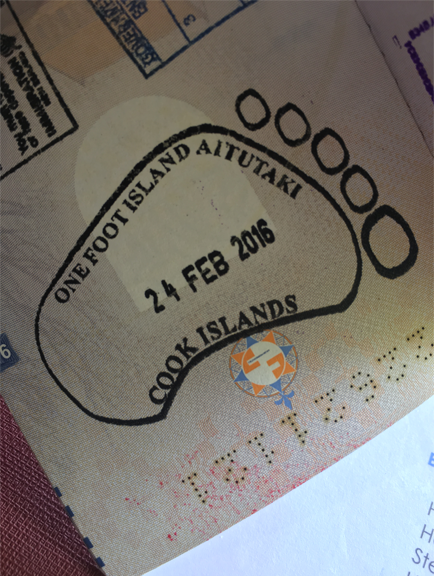 Kuko salų spaudas lietuviškame pase
Kokia tai buvo kelionė: lėktuvu, pėsčiomis, autostopu, nuomotu automobiliu?.. Gal net skaičiavote kiek skirtingų transporto priemonių teko išbandyti?
Oi… Transporto priemonių išbandėme daugybę – lėktuvus, automobilius, dviračius, arklių tempiamus vežimus, motorolerius, laivus, katerius, metro, keltą, autentišką tramvajų, golfo automobilį, įvairius vietinius viešuosius transportus, kurių pavadinimų negalėčiau išversti į lietuvių kalbą: tricycle– Filipinuose įprastas viešasis transportas – ant motociklo primontuota kabina, kurioje įrengtos sėdimos vietos keleiviams, jeepney – dar vienas Filipinamobilis – spalvingai išpaišytas ir perdarytas iš seno karinio amerikiečių džipo, atstojantis autobusą… Visgi, daugiausia laiko praleidome lėktuvuose (net 20 skrydžių per du mėnesius) ir kemperyje, kuriuo tris savaites riedėjome Naujosios Zelandijos keliais.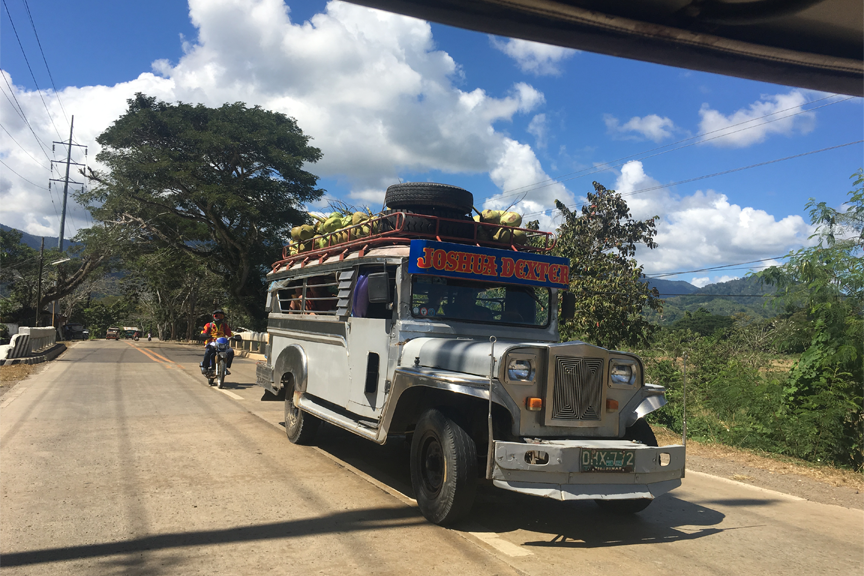 Jeepney – dar vienas Filipinamobilis
O kojas vakarais ilsindavote viešbučiuose, palapinėse, o gal pas vietinius? Ar nekamavo abejonės ir baimės – juk nuosekliai suplanuoti dviejų mėnesių stoteles ir numatyti judėjimą tarp jų atrodo ne taip lengva… neteko po žvaigždžių skliautu kurią naktį glaustis?
Nakvynės iš anksto neturėjome beveik niekur. Ją kaskart susirasdavome vos pasiekę oro uostą: prisijungi prie interneto ir naršai po booking.com, tripadvisorarba airbnb programėles. Jokių baimių, jokių problemų! Kiek pavykdavo, stengdavomės naudotis airbnb aplikacija, apsistoti vietinių siūlomuose išsinuomoti būstuose. Visgi, Azijos šalyse ši sistema nėra tokia populiari kaip Europoje ar Amerikoje, todėl dažniausiai naktis leidome viešbučiuose.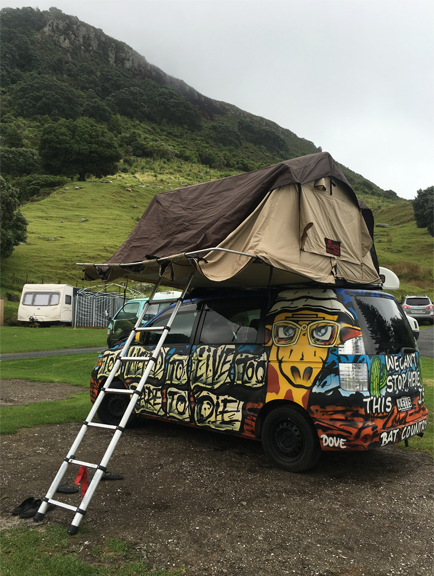 Kemperis, Naujoji Zelandija
Po Naująją Zelandiją, kaip minėjau, keliavome kemperiu, kuris ant stogo turėjo primontuotą milžinišką, vos per minutę išskleidžiamą-suskleidžiamą palapinę. Itin patogu! Miegojome joje tris savaites – po žvaigždėtu, o kartais ir visai lietingu dangumi. Reikia pridurti, jog Naujoji Zelandija ypatingai puikiai pritaikyta kelionėms kemperiu: daugybė įvairiausių stovyklaviečių, galinčių pasiūlyti tiek geras kainas, tiek puikią infrastruktūrą. Važiuodavome link sugalvoto tikslo tol, kol pavargdavome, o tuomet užsukdavome į artimiausią kempingą ir ten apsistodavome. Žinoma, teko susidurti su situacijomis, kai viskas rezervuota, kai aplink nėra kur apsistoti… Tokiais atvejais svarbiausia nesutrikti ir kantriai žvalgytis – anksčiau ar vėliau, tavęs laukianti vieta tikrai atsiras! Juolab, kai su kuprinėmis keliaujama po šiltu klimatu lepinančias vietoves – ten ir nakvynė paplūdimyje nebūtų didelė problema…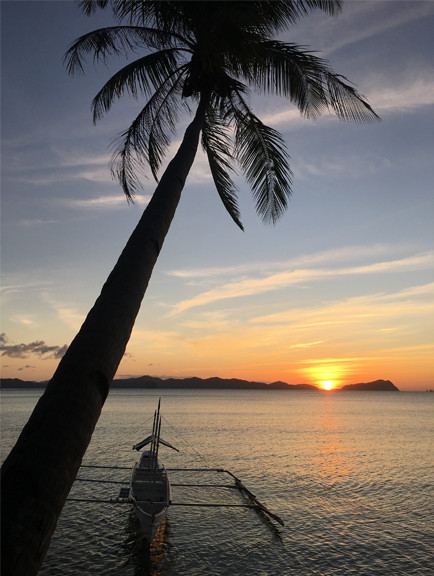 El Nido, Filipinai
Jei jau prakalbome apie problemas… Kokie gi tie įsimintiniausi kelionės įvykiai, džiaugsmai, vargai ir atradimai?
Svarbiausias atradimas – jeigu esi gimęs vasario mėnesį, tai nebūtinai reiškia, jog tavo gimtadienis žiemą. Jį gali atšvęsti ir po palme, nes yra šalių, kuriose šis mėnuo – vienas iš vasaros mėnesių! Mano draugas pagaliau turėjo galimybę savo gimtadienį paminėti trumpomis rankovėmis ir oficialiai vasarą. Puiki patirtis mums abiems. Negana to, išsipildė mano vaikystės svajonė – pirmą kartą paliečiau tikrą didelį dramblį ir netgi turėjau galimybę jį pamaitinti.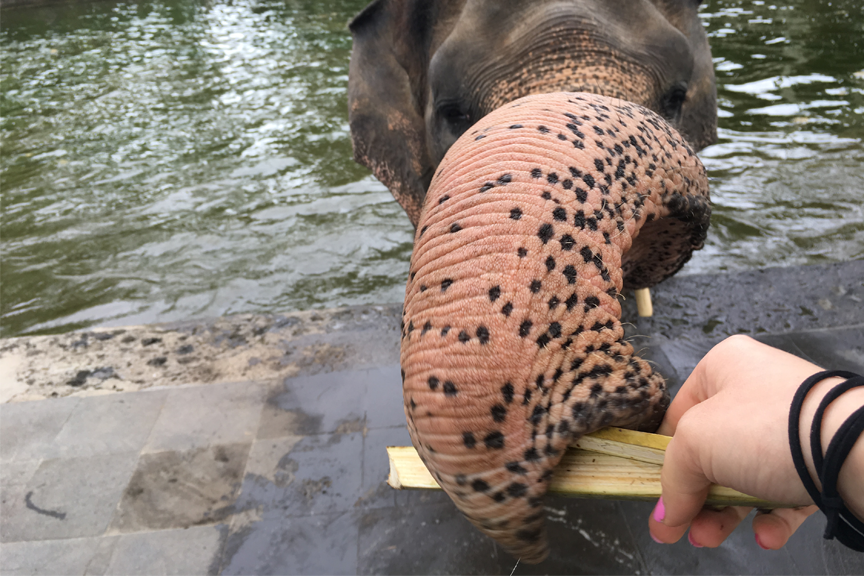 Dramblio maitinimas
Problemos? Viena didžiausių su kuria susidūrėme akis į akį – šiukšlės. Ramusis vandenynas tiesiog dūsta nuo šiukšlių, pakuočių, butelių, skardinių ir kitų atliekų. Baisu nardant tarp koralų matyti įstrigusias skardines, plaukiant vandenynu regėti tiesiog akimis neaprėpiamus plotus šiukšlių sankaupų ir ilgai vaikštant paplūdimiu nerasti švaresnės vietelės prisėsti… Atrodo, jog ištisi Filipinai, Indonezija ir Malaizija atliekas paprasčiausiai meta į aplink esančius kalnus, kurios vėliau nukeliauja tiesiai į vandenyną. Turistai imasi iniciatyvos tvarkyti aplinką, leidžia sau mokyti vietinius, tačiau dažniausiai šiems tokios problemos nė motais. Tai gąsdina! Rodos, greitai pasaką primenanti gamta gali virsti sąvartynu.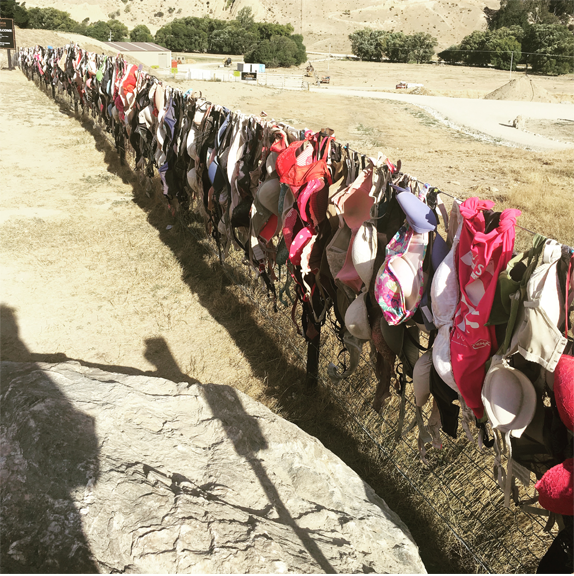 Kelionės po Naująją Zelandiją fragmentai
Na, o kita, ne tokio stambaus masto, labiau asmeninė problema ta, kad ieškodama informacijos apie kai kurias planuotas pamatyti šalis vis susidurdavau su informacijos trūkumu. Manau, kelionių įspūdžius pasilikti sau yra pernelyg savanaudiška, tad informacijos problemą imsiuosi spręsti pradėdama rašyti kelionių blogą. Ten plačiau pasidalinsiu atradimais, patarimais, išbandymais ir kitomis patirtimis.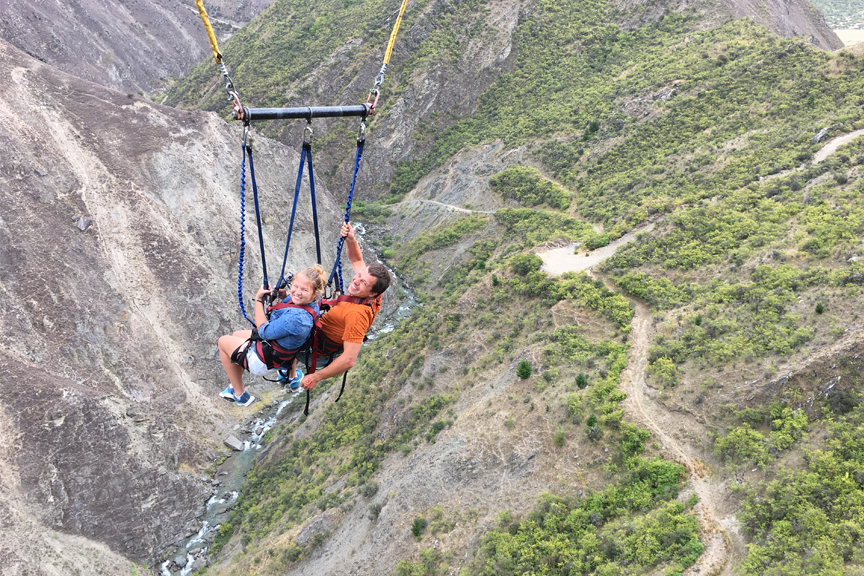 Nevis swing, Queenstown, Naujoji Zelandija
Na, o šalys favoritės? Jas renkantis tau svarbiausia architektūra, kultūra, vietos virtuvė ar sutikti žmonės? Kokios gi tos svariausios keliavimo svetur priežastys?
Pirmiausia įvardinčiau – Singapūrą dėl modernumo, inovatyvumo ir įspūdingų lazerių šou, kurį teko regėti. Apskritai, to miesto vaizdai, nepriekaištinga tvarka ir švara negali nežavėti.

Naktinis Singapūras
Antrasis pasirinkimas – Kuko salos dėl jų paprastumo, neįtikėtinai skanių vaisių, įspūdingos gamtos ir atsipalaidavusių žmonių, gebančių saugoti šiuos turimus turtus… Labai mėgstu tvarkingus miestus ir švarią gamtą, todėl kuo toliau, tuo labiau suprantu, jog nenoriu keliauti ten, kur toks įvaizdis sukurtas tik viešbučio teritorijoje, o iškart už jos – sąvartynai ir betvarkė.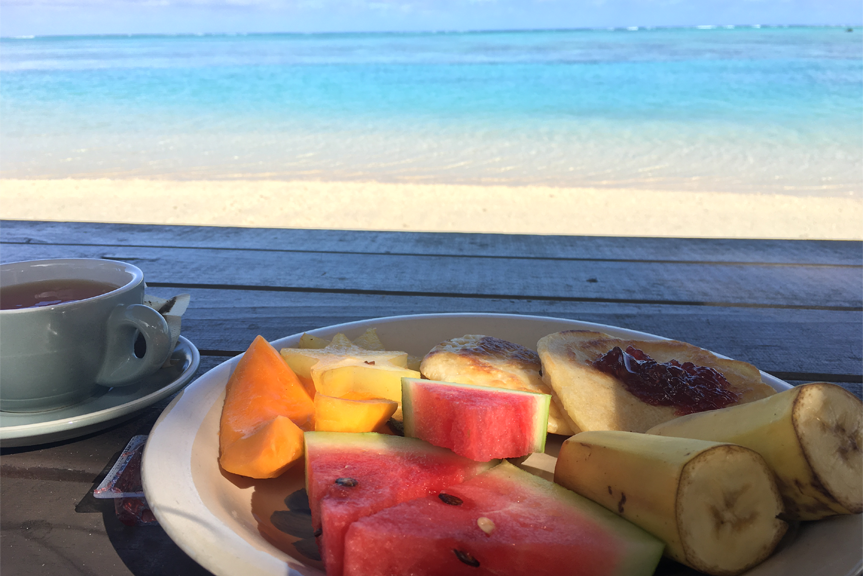 Kuko salos skoniai
Ar ilga kelionė gali virsti rutina? Ar egzistuoja "keliautojo įpročiai"? O gal net kilo noras kur nors ilgiau stabtelti?
Prieš kelionę daugelis draugų sakė: "Pakeliausit, užsikrėsit kelionėmis ir grįžti nenorėsit". Iš pradžių į šiuos žodžius žiūrėjau skeptiškai, tačiau keliaudama pamačiau, jog man labai patinka! Patinka kas savaitę keisti šalis, kultūras, tikėjimus, keliauti laiku vis keičiant laiko juostas. Savotiška rutina, tačiau neatsibostanti ir kasdien nustebinanti iš naujo.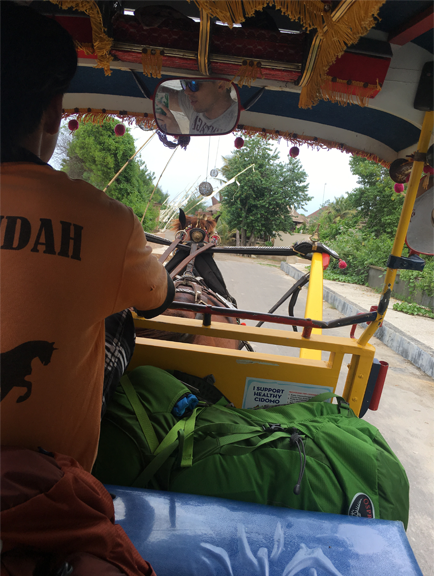 Gili salų transportas
Ilgiau stabtelėti norėjosi visur, toks jau keliavimo dėsnis. Štai mūsų kelionė prasidėjo Singapūre ir visos kelionės metu atrodė, jog buvome ten per trumpai. Jau grįžtant, pakeliui į Iraną neatsilaikėme ir dar porai dienų užsukome ten, kur pradėję – dar taip daug atrodė nepamatyta. Kai prisimenu kelionę dabar, turbūt labiausiai norėčiau sugrįžti į Naująją Zelandiją ir Aitutaki salą.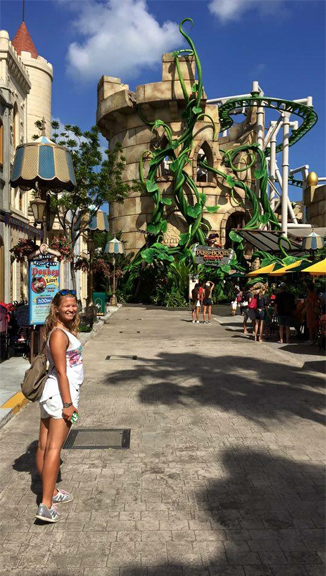 Monika Universal studios parke Singapūre
Kaip keliauninkai išsiugdėme du įpročius – visada su visais sveikintis ir ieškant vietos pavalgyti pasitikėti tripadvisor programėle. Ne kartą pasirinkus vietą, užimančią žemą poziciją programėlėje, išties tekdavo nusivilti.
Nuotraukos, įspūdžiai, sužadintas alkis keliauti ir nesustoti –"lauktuvės", kurias kiekvienas parsivežame su savimi nepriklausomai nuo to, kur ar kuriam laikui išvykstame. Ką dar parsivežėte prisiminimui? O gal atvirkščiai – kažką palikote ten, pakeliui, negrįžtamai ir visam laikui?
Perlai man visada atrodydavo kaip mažų salų, balto smėlio, laisvės ir atostogų simbolis. Vienoje iš Kuko salų yra juodųjų perlų ferma, todėl pasinaudojau proga ir nusipirkau sau nedidelį juodą perlą kelionės prisiminimui. Maisto, prieskonių ar panašių dalykų nepirkome, nes žinojome, kad Naujojoje Zelandijoje gamta itin saugoma – į šalį draudžiama įsivežti bet kokius maisto ir apskritai organinius produktus. Nerizikavome – skanėstus suvalgėme patys kelionės eigoje. Apskritai, judėjimas vyko su kuprinėmis ant pečių, tad apmąstyti reikėjo kiekvieną, kad ir nedidelį pirkinį. Visgi, draugės ir mamos buvo pradžiugintos! O kaip gi kitaip?! Kam kliuvo apyrankė, kam skarelė, kam kokia kita smulkmena…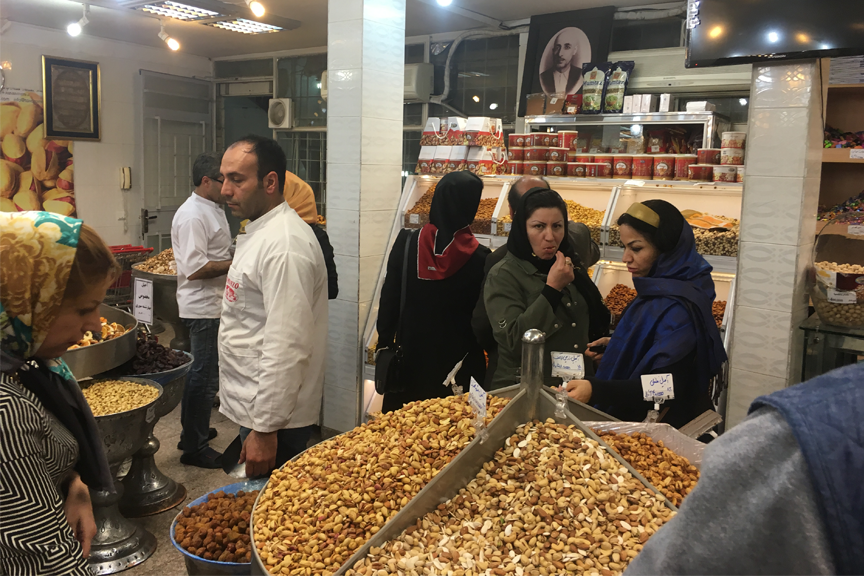 Teheranas, Iranas
O štai Iranas – mūsų paskutinė stotelė, kurioje buvo užpildytos visos likusios kuprinių kertės. Daugiausia tai buvo įvairiausių turgelių laimikiai – rankų darbo batai, kuprinės, staltiesės ir pistacijos. Jas po kelionės, beje, valgėme gerą mėnesį dar ir visus draugus gausiai vaišindami! Irane jos auginamos ir yra gerokai pigesnės nei Lietuvoje – pirmą kartą gyvenime išgirdau prisipažinimų, jog ir šių skanėstų galima persivalgyti!.. Iranas dar neišlepintas turistų, todėl ten galima įsigyti tikrai originalių dirbinių už stebinančią kainą.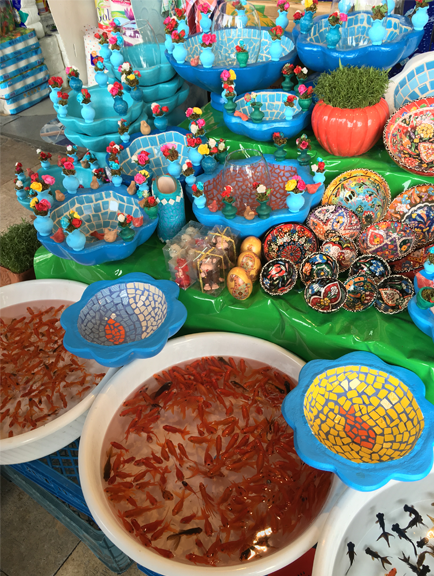 Irano suvenyrai
Gal pasidalintumėte praktiniais patarimais: atogrąžinės ligos ir skiepai, aklimatizacija, vizos ir panašūs dalykai be kurių tokiose kelionėse, matyt, neįmanoma apsieiti?
Keliavome be skiepų ir per daug dėl šito galvos nesukome. Iš pradžių planavome pasiskiepyti, tačiau vėliau kiek daugiau pasidomėję supratome, jog tai tikrai nėra būtina. Žinoma, jei prieš kelionę jaučiate, kad vakcinos neturėjimas gali stabdyti tam tikras veiklas, geriau pasiskiepyti ir taip išvengti nemalonių minčių bei suvaržymų. Be kita ko, yra ir šalių, kuriose tiesiog privalu turėti tam tikrus skiepus.
Europiečiams keliauti ypač paprasta – esame laukiami, pripažįstami, keliantys pasitikėjimą ir net galintys keliauti be vizos. Tai didžiulis pliusas, kuriuo kiekvienoje vietoje įsitikinti tekdavo vis iš naujo. Vizas iš anksto įsigijome tik keliaujant į Iraną, visur kitur jas tiesiog suteikdavo vietoje.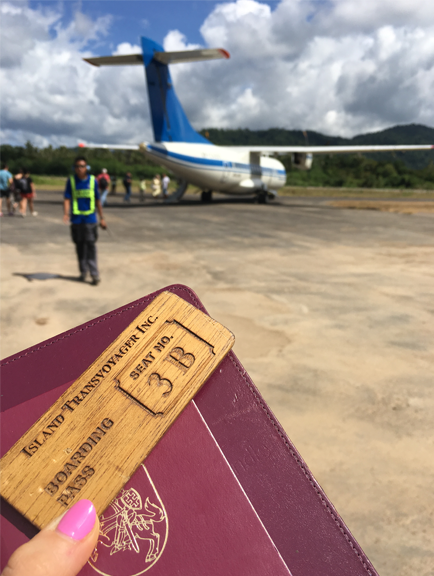 Įlaipinimo bilietas
Vaistų turėjau pagrindinių: nuo galvos skausmo, nuo virškinimo sutrikimų ir nuo alergijos. Pravertė tik vaistai nuo galvos skausmo, nors jų buvo galima nusipirkti ir bet kurioje vietinėje vaistinėje. Turėjau ir virškinimo problemų, tačiau čia mūsų tradiciniai vaistai nepadeda, geriausia keliauti tiesiai į vietinę vaistinę ir įsigyti vietinių vaistų, jie savas bakterijas puikiai atpažįsta ir greitai sunaikina.
Svarbu turėti mintyje, jog higienos priemonių galima įsigyti visur, tad patariu pasiimti tik labai specifinius dalykus: kosmetologės parinktą kremą, šampūną ar kitas nišines priemones. Visa kita rasite bet kur.
Visos spintos nesidėkite – kiekvienoje naujoje vietoje norėsis įsigyti ką nors savito, išskirtinio, tad gali tekti išmesti tai, ką buvote susikrovę išvykstant.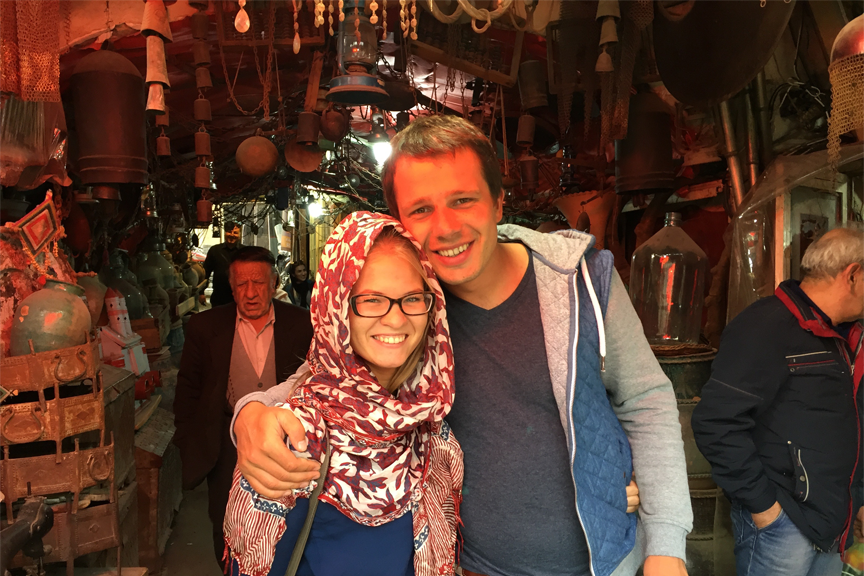 Monika su draugu Teherano turguje
Patogūs batai, patogūs batai, patogūs batai – svarbiausia taisyklė randama bet kurioje kelionių patarimų skiltyje. Tai auksinė taisyklė todėl norisi kartoti dar penkis kartus.
Norint palengvinti aklimatizaciją, svarbu gerti daug vandens ir gerai pailsėti. Pirmą dieną po ilgo skrydžio tikrai nebūtina pulti ir aplėkti pusės miesto, geriau pavalgyti, atsigulti, pailsėti ir kitą dieną šviežia galva pamatyti naujas vietas. Nuovargis nesuteiks malonumo nei kelionei, nei grožio nuotraukose, nei lengvesnės adaptacijos.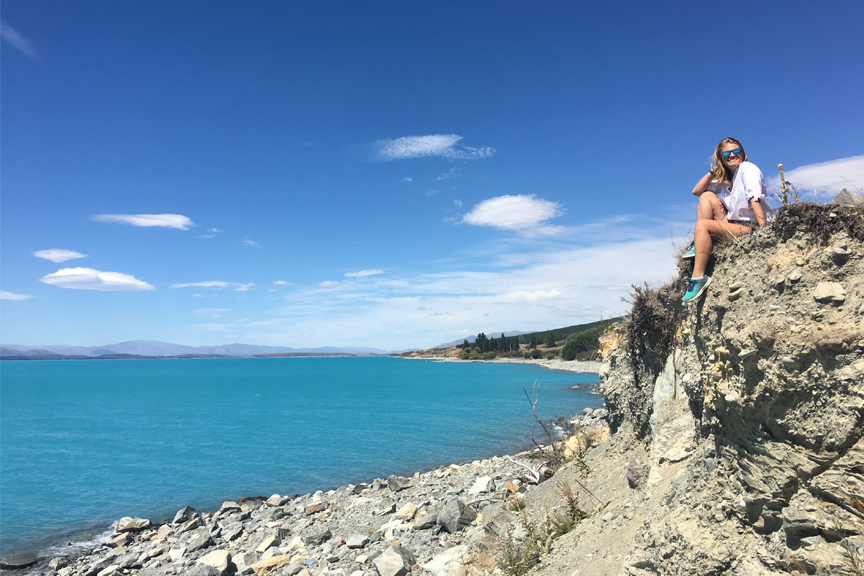 Tekapo ežeras, Naujoji Zelandija
Ilgai ir nenuspėjamai kelionei patariu rinktis kuprinę. Su lagaminu lipti į valtį, tįsti jį per smėlį ar balas, laikyti ant kelių viešajame transporte, grūsti į mažą taksi bagažinę – siaubingas vaizdas ir tikrai nepatogu. Dabar kuprinių pasirinkimas stebina – pagal nugaros ilgį, pečių plotį, ūgį, svorį ir kitus aspektus, tad galima išsirinkti tokią, kuri net ir nemažai sverdama sunki neatrodys. Patikinu, su ja bus patogu keliauti bet kur: tiek prie jūros, tiek mieste, tiek miške. Tik jeigu keliaujate ten, kur laiką leisite viešbutyje, būsite iki jo nuvežti ir pristatyti atgal į oro uostą, imkite lagaminą.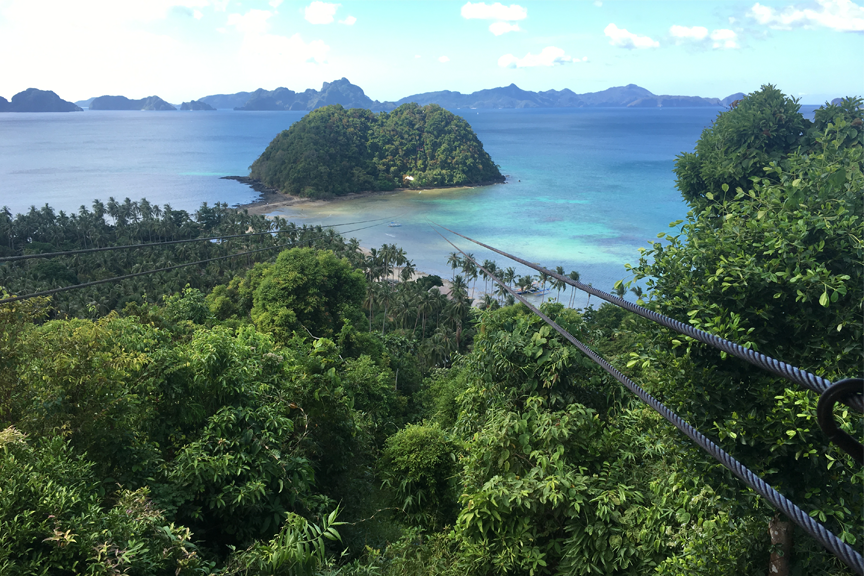 El Nido, Filipinai
Nepagailėkite pinigų ir kiekvienoje šalyje įsigykite vietinę mobiliojo ryšio kortelę. Bet kur turėsite internetą ir daugybę aplikacijų, palengvinančių keliautojo dalią. Niekuomet neturėsite problemų ieškant taksi, rezervuojant staliuką restorane ar paprasčiausiai norint susisiekti su kartu keliaujančiais draugais.
________________
Tiems, kurie dar nebuvo, bet svajoja apie vieną iš mano aplankytų šalių, kviečiu atvykti į Skrendu.lt | Baltic Tours biurą, išgerti arbatos su egzotinių kelionių dizainere Milda ir aptarti būsimos kelionės maršrutą!